City Services
---
---
Garbage Service
Garbage is collected by West Central Sanitation weekly on Tuesdays.

Monthly garbage rates are as follows:
35 gallon cart - $11.73
65 gallon cart - $12.55
95 gallon cart - $14.54

Prices subject to adjustable fuel surcharge.
---
Recycling Service
Recycling
One-sort/curbside recycling is collected every other Tuesday on garbage days.
There is also recycling bins located on 1st Avenue South across from the County Hwy Garage.
For complete Recycle details visit McLeod County Solid Waste.

Recycle Acceptables
Glass — All colors accepted; remove caps and lids.
Plastic — All plastic (#1-#7) accepted — Water Bottles, Milk Jugs, Shampoo Bottles, etc.
Cardboard Boxes — Food Container boxes, (Cereal, Noodles, Dry Food, etc.), Cardboard, and Gift Boxes. NO beverage cartons accepted.
Paper — Printed newsprint, Flyers, all glossy/semi glossy ads, inserts, magazines, catalogues, telephone books, soft cover/hard cover books (hard covers removed), Printer paper, envelopes, file folders, notebooks, shredded paper, sticky notes, etc.
Metal cans — Aluminum, tin cans, aluminum foil.
---
City Utilities
Utility Service Application Natural Gas Service Connection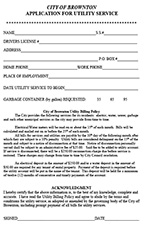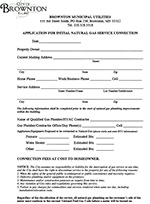 City of Brownton Utility Billing Policy* full policy is on the City of Brownton Website
The City provides the following services for its residents: electric, water, natural gas, sewer, garbage and such other municipal services as the city may provide from time to time.
Electrical/Water/Natural Gas meters will be read on or about the 1st of each month. Bills will be calculated and mailed out on or before the 10th of each month.
All bills for services and utilities are payable by the 25th day of the following month after which they are subject to a 10% penalty. Utility bills are considered delinquent on the 26th of the month and subject to a notice of disconnection at that time. Notice of disconnection shall be subject to an administrative fee of $25.00. Said fee to be added to utility account. If service is disconnected, there will be a $250.00 reconnection charge due before service is restored. These charges may change from time to time by City Council resolution.
A Utility deposit is required for any tenant of a rental property; $250.00 Deposit for Electric, $250.00 Deposit for Natural Gas and/or a water deposit in the amount of $50.00, maximum deposit amount of $500.00. Payment of the deposit is required before the utility account will be put in the name of the tenant. This deposit will be held until account is closed. The deposit, including interest, shall be applied to the final bill.
---
Yard Waste Site
Grass clippings, leaves and branches can be taken to the Yard Waste Site on 1st Avenue South. Appliance and E-Waste can also be disposed of at the Yard Waste Site. Permits and fees for disposal are taken care of at the city clerk's office. The site will be opened and monitored according to the following schedule:

Tuesday and Thursday 4:00 p.m.-8:00 p.m.
Saturday 9 a.m.-5 p.m.
May through October
Site will be closed in adverse weather.